Introduce about
VIET CHUAN COMPANY
Vu Viet Cuong: In 2002, after graduating from Hanoi University of Science and Technology, I was fortunate to have the opportunity to study in Japan as an intern in mold design. At that time, Vietnam had an outdated and inaccurate technology system. I learned not only technical skills in mold design from the Japanese, but also discipline, keeping promises, and meticulousness in work. Vietnamese people have strengths in being eager to learn, diligent, and determined, but they also have many weaknesses. Fortunately, the strengths of the Japanese, such as discipline, keeping promises, and meticulousness in work, complemented and balanced some of my weaknesses. Nearly 20 years of working and learning alongside the Japanese in the field of mold and plastic injection has been an amazing experience for me, enough to nourish my growing love for the supporting industry. Difficulties and challenges still lie ahead, but I believe that with the knowledge and skills I have, I will continue to move forward stronger and more confident.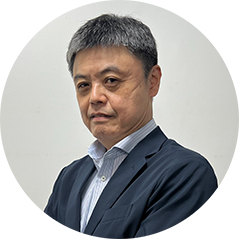 I have 39 years of experience working in the plastic manufacturing and fabrication industry in Japan. Our team always strives to learn the best practices and achieve the highest efficiency to complete our work. I believe that the combination of the hardworking and innovative spirit of the Vietnamese people, together with the discipline and meticulousness of the Japanese, will build VC into a leading company in the mold industry.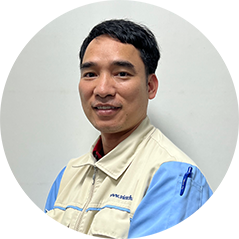 Nguyen dang Viet
SALES MANAGER
With over 15 years of experience working in the business field, I take pride in being a part of the management team of the company. We constantly strive to explore new opportunities for business development. I believe that only continuous innovation brings success and growth to the company. I desire to contribute my ideas and work together with the members of the company to develop VC into one of the leading enterprises in the field of mold manufacturing and plastic molding.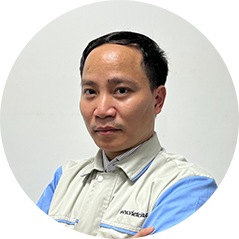 daM TUaN ANH
DIRECTOR OF MOLD FACTORY
With 20 years of mold design experience, including over 10 years of managing plastic and aluminum mold production in VC, we have built an intelligent and disciplined team. I always remind myself and my team to be dedicated and strive for continuous improvement.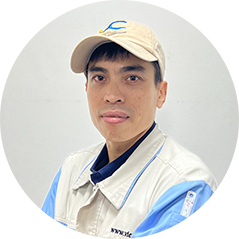 Tran Minh duc
PLASTIC FACTORY DIRECTOR
At VC, our mission is to provide customers with the best quality. We work according to processes, principles, and constantly improve our system to achieve better efficiency every day. With us, every employee is familiar with LEAN, 5S, Kaizen, Visualize… It's no longer just theory, it's the culture in our company.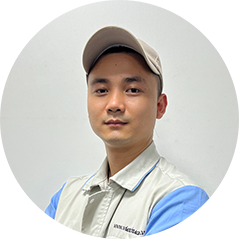 NGUYeN TaI QUyNH
DEPARTMENT OF DESIGN
The personnel team of the design department consists of 20 experienced individuals who are always dynamic and creative in their work. We have over 15 years of experience in the field of mold design. VC not only brings quality to our customers but also provides peace of mind in every product.
VC is a business that supplies mold prototypes for automobile, motorcycle, printing machine, and electronic equipment manufacturers in Japan since 2007. Since then, VC has been continuously developing. To ensure optimal production efficiency, VC has built its own production management software system tailored to the processes of each customer partner. As a leading provider of plastic and aluminum molds for automobiles, motorcycles, printing machines, and electronic equipment in Vietnam, we proudly serve major partners such as Honda, Yamaha, Canon, Panasonic, ToTo, VinFast, and more. With our experience and capabilities, VC is confident that we will satisfy customers both domestically and internationally.
1. I understand that the majority of my daily time is spent working creatively at the company. Therefore, I deserve to work in an ideal environment.

– VC 10 Belief (CEO) –
2. I believe that it is not the customers, not society, not superiors, but rather I and my colleagues together who create a work environment that makes us happy and proud. The leadership can only provide us with problem-solving methods and the physical foundation to create a friendly, clean, convenient, and efficient working environment. But it is I and my colleagues who are the decisive factors in creating that ideal environment.

– VC 10 Belief (CEO) –
3. I believe that our organization is like a living organism, where every part has its own function and responsibility. If one part is weak, it will directly or indirectly affect other parts.

– VC 10 Belief (CEO) –
4. I understand that adhering to procedures and requirements set by the organization is the shortest path to completing my work sustainably with high quality, rather than eliminating steps in the process to save a few minutes of operation.

– VC 10 Belief (CEO) –
5. I believe that reporting abnormalities and changes in production conditions to superiors will help minimize future errors and inconveniences.

– VC 10 Belief (CEO) –
6. I understand that keeping machinery and tools in the best operating condition will help me increase work productivity and ensure product quality, avoiding the need for reprocessing due to subpar quality.

– VC 10 Belief (CEO) –
7. I understand that I will never proceed with production if the input conditions, such as drawings, information, raw materials, tools, methods, and machinery, are not ensured.

– VC 10 Belief (CEO) –
8. I am always conscious of finding improvements in the production process. I can be the factor that discovers improvements to make the work environment more convenient and efficient.

– VC 10 Belief (CEO) –
9. I understand that my value to the organization and society cannot be created through comparisons or demands, but rather my value shines when I am useful to colleagues and the organization.

– VC 10 Belief (CEO) –
10. I understand that if our organization produces high-quality products, it means that we have ensured the other factors that customers expect, such as progress, productivity, cost, and so on.

– VC 10 Belief (CEO) –
 Why choose
VIET CHUAN JSC
30 employees of DESIGN Department
20 PERSONNEL QC Department
We are always here to help you.

Please send us a request using the form.